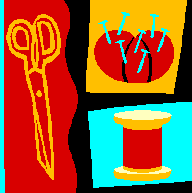 Blankets By Carol

We make Tee-Shirt Blankets and memory blankets from your shirts. Prices start at $115.00 plus the cost of backing and batting. (see Tee-Shirt Page for details)
PREFERRED SHIPPING IS FedEx GROUND or UPS GROUND
WE CAN MAKE BEAUTIFUL BLANKETS FROM YOUR FAVORITE T - SHIRTS
Click on picture to view the back
| | | |
| --- | --- | --- |
| BRAWLEY, CA | TAMPA CATHOLIC SCHOOL | TAMPA, FL |
| | | |
| | | |
| | | |
| --- | --- | --- |
| SHE LOVED IT | LOOKS GREAT AS A COVER (Dorm Room) | A GREAT WAY TO PRESERVE AND SHARE GREAT MEMORIES |
| CLICK ON PICTURE FOR LARGER VIEW | | |
| | |
| --- | --- |
| | LAND O' LAKES, FL |
| | |
Our Blankets, Throws, Lap Quilts & Pillow Cases or Slips are individually handmade so each one is unique.
Affordably priced from $29.00 & up. Our Blanket Throws can be further customized with monogramming, names, and dates at a slight additional charge.
Our Blanket Throws , Quilts, & pillow slips are made of 100 % cotton & polyester with 1/2 to 3/4 inch generous polyester batting, making them both durable & luxurious.
Check Out Our Numerous Pages For Many Cotton Throw Patterns
Click on picture to Visit A Page

Cotton Throws washing instructions: machine wash in cold water with 2 to 3 cups of white vinegar for all washings.
For large blankets, use front loader washers. Dry on low heat for 10 to 15 minutes, then air dry.
Please email if you have further questions. blanketsbycarol@verizon.net